Let me set this scenario up for you.
Dad has invited 8 of his dance friends from various areas of the country to stay w/ us for a dance event occuring in our town this weekend. Basically the dancers ask only a place to sleep and shower while spending most of their time out dancing through the day and night.We're not really stressing; however, it will take a lot of coordination and due diligence to make sure there's harmony between us, the dancers and the things they'll leave unattended in our house. Dad sent out a preliminary email with pictures of us to make sure people understand we're 2 BIG dogs. Lets face it, they're worried Kiley will get into someone's things or air mattress and chew something up.Tonight we got the following cutely naive email from one of thegirls, Amy, who's staying with us. She's a tiny West Virginia farm girl who weighs about the same as Kiley. Keep in mind we're northern breeds with a strong prey drive and neither of us dogs are crated.
The email
:"I have a small problem. Tony can't come because he is getting called away on business. This leaves me with a dilemma regarding my pet peacock, Scooter. He is 8 weeks old. I am thinking of investing in some sort of porta-crib (stop laughing), turning it upside down, and making that his temporary home. Is there a place in your yard I could set him up? Is this a crazy idea?"
Here is Scooter! Isn't he cute?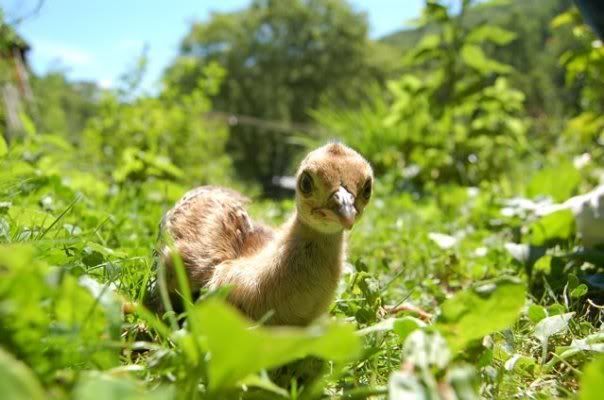 Personally I don't see the problem. I'm not sure why HuMom is so upset. Stayed tune to see if he shows up!
Simcha